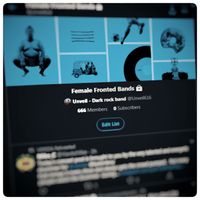 Hello rockers.
Always looking for new female-fronted rock/metal music? We know exactly how you feel and that is why we created "Female Fronted Daily". 
Every day, using our Twitter profile, we post a video featuring new music by some of the best female-fronted rock/metal bands from all over the world. Out of the 366 songs we showcased in 2020, we created a playlist of 15 songs that we enjoyed the most this year.
Listen here: https://www.youtube.com/playlist?list=PL_sjLiX4dmCV26zvyRsrZPG6EUNZ97QQK 
Want more? Subscribe to our Twitter account and discover new music every single day.
Rock on.