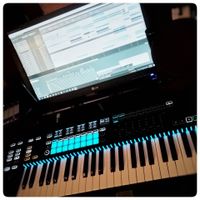 Hello my rockin' friends.
Unveil is still in hiatus during these quarantined times, but our guitarist Alain has been active at Upstairz studio recording a heavy rock cover of a song by the queen of pop: Madonna. Can you guess which one?
The still nameless project will be available on Spotify and other music streaming platform in the coming month.
Be sure to join our mailing list so you don't miss the release.
Hope everyone is safe during the lockdown. 
Stay home with your loved ones.
And listen to music.