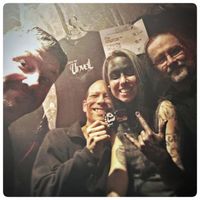 Hello rockers.
We just want to let everybody know that the Unveil family is doing fine. Everyone is safely at home taking care of there loved ones.
But this also means the songwriting process is in hiatus. Call us old school, but we firmly believe that magic happens when people are together in the same room. We record our music live, we also write all our music live.
In this downtime, we are releasing Calling to the Night as a radio single. The song has been receiving love from various streaming platforms so we are sending it out to radio in the coming week.
Stay home, be safe.
And crank up the volume !