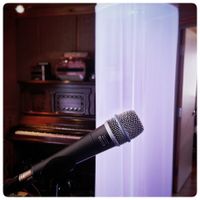 Two years ago today, we recorded and filmed the four songs that became "The Oblik Session".
Thank you to Etienne Chagnon, owner and sound engineer at Oblik Studio. We had a great day chillin' at your place and drinking your coffee. :)
Thank you to Alex BG, the one-man film crew, who spent the entire day going from camera to camera working like a little bee.
And finally a warm and sincere thank you to everyone who took the time to listen to our work. I hope you have has much fun watching it as we had to make it.
Enjoy.