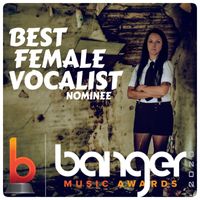 This is beyond what we could ever imagine.

We are extremely honored to announce that Jow is one of the five finalists in the Best Female Vocalist category for the 2020 Banger music award which will be aired January 18th, 2020. I hope you can spare a few minutes and give Jow a vote. http://bit.ly/VoteJow
The song Infinity, from our album The Deep Sleep, is also nominated for the "Fan Favorite" award.
A big shoot out to everyone how supports the indie music scene.
You guys are the ones making us rock.